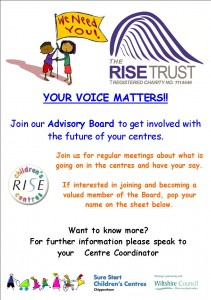 Main Purpose
The Children's Centre Super Advisory Board is a key component of The RISE Trust's commitment to provide:
The best start in life for every child
Better opportunities for parents
Affordable, good quality childcare
Stronger and safer communities
Improving outcomes for children and families
There is also a commitment to ensure that integrated education, care, family support, health services and support with employment are key factors in determining good outcomes for children and their parents. The core purpose of the Super Advisory Board is:
To provide advice and support to the Children's Centre Co-ordinators and The RISE Trust CEO in the running of the Centres
To ensure that the Centres are aware of parents' views
To play an active role in driving up improvement in Children's Centres' performance.
The Super Advisory Board should work to improve the well-being of children in the following areas:
Physical and mental health and emotional well-being
Protection from harm and neglect
Social and economic well-being
Education, training and recreation
The contribution they make to society.
We are always happy to welcome new parents to our Super Advisory Board and if you are interested, please contact your local Children's Centre for more information.