CHIPPENHAM HALF MARATHON
On behalf of everyone connected with The RISE Trust – families, children, staff and trustees – we would like to say a BIG THANK YOU to the organisers of Chippenham Half Marathon for their generous £6,500 donation to our community charity.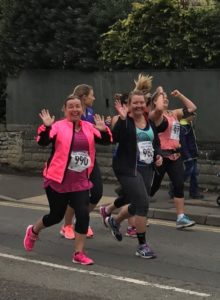 The RISE Runners were Deb Skilton, Katie Baron, Mark Witts, Leona Smith, Laura Dunford, and Jess Brolly.
At The RISE our mission is that "Through unconditional love, commitment & passion we seek to enable all children, young people and adults to be the best they can be". The £6,500 raised through the half marathon will go towards achieving this.
The donation will help:-
Single parent families where the parent is struggling to make ends meet
Victims of domestic abuse who need to get away from their partners but are too frightened to make the break
Children in danger of sexual abuse to protect them from abusive parents or partners
Disabled children who need extra support in schools to help them to cope
Learning disabled parents who need help with raising their children
New parents who are struggling to cope with the demands of their babies and need a bit of guidance to help them in the early months
Estranged parents who can only see their children once a month in a contact centre
Parents of older children finding it hard to cope with the challenging behaviour they are suddenly faced with
Parents who are coping with addiction to drugs or alcohol and are trying to give up
Younger children who benefit from interacting with other children to help them socialise and cope with a school environment
Senior citizens who meet together once a week for a hot lunch and a chance to enjoy a chat and some much needed company
Mentors who support Secondary school children who are struggling to cope with bullying of the effects of Social Media
Once again I send our heartfelt thanks to everyone who contributed in some way to the Chippenham Half Marathon – it was such an inspiring day!
Lynn Evans, C.E.O