Mum2Mum Breastfeeding Groups
Meet other mums with experience who are trained to provide support. Open to new and expectant mums.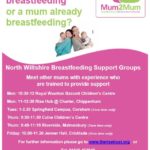 Monday 10.30-12pm Royal Wootton Bassett Children's Centre
Monday 11-12.30pm Rise Hub @ Charter, Chippenham
Tuesday 1-2.30pm Springfield Campus, Corsham (Term time only)
Thursday 9.30-11.30am Calne Children's Centre
Thursday 9.45-11.15am Riverside, Malmesbury (Term time only)
Friday 11-12.30pm Jenner Hall, Cricklade (Term time only) **Cancelled until further notice**
Breast Pump Hire
Each pump can be loaned for up to 6 weeks;  however, depending on demand, this time can be reduced or increased if necessary.
There is a £10 charge for each set that is loaned to cover the cost of the disposable packs given.
Please contact your nearest centre for full details and availability.