Family help survey – face to face meetings planned
A series of face-to-face meetings are being held across Wiltshire so families and young people can share their views and talk about how they want to access support and services.
Wiltshire Council has already launched a survey Family Help Jan 23 (wiltshire.gov.uk) which is available until 2 April 2023.
The survey asks people how they prefer to find out information or get in touch with someone who can help. It is targeted at parents, carers, parents to be and young people – anyone in a family situation.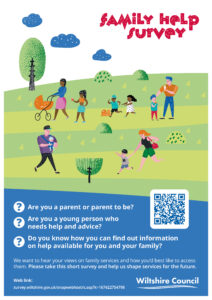 People are asked to share if they prefer to meet in buildings or access support online. The feedback will help understand residents' preferences and inform future delivery of services.
Meetings are being held throughout February and March for people to come together and make their views known.
Cllr Laura Mayes, Cabinet Member for Children's Services, said: I want to thank all those who have already completed the short survey, which will help us shape how services are provided in the future. We know many people prefer to give feedback online and we would encourage people to complete the survey so we can really capture how Wiltshire residents prefer to access services and support in 2023.
There will be others who prefer to speak face to face and we plan to have 23 sessions across Wiltshire at different times, so as many people as possible can share their thoughts with us in person.
We encourage people to drop into these sessions and let us have their thoughts in person where possible. All the feedback is valuable to us and ensures we continue to provide services that are relevant and meet the needs of everyone.
The survey will inform the wider review of Family Help across the county for children aged 0-19 and up to 25 years for young adults with Special Educational Needs and/or Disabilities.
Dates for meetings

| Date | Time | Community Area | Venue | Postcode |
| --- | --- | --- | --- | --- |
| 16/02/2023 | 13.30 | Corsham | Springfield Community Campus | SN13 9DN |
| 17/02/2023 | 13.30 | Downton | Downton Library | SP5 3PD |
| 17/02/2023 | 9.30 | Salisbury | Five Rivers Health and Wellbeing Centre | SP1 3NR |
| 20/02/2023 | 9.30 | Marlborough | Marlborough Library | SN8 1HD |
| 21/02/2023 | 17.00 | Chippenham | Chippenham Library | SN15 3EJ |
| 22/02/2023 | 9.30 | Amesbury | Amesbury Library | SP4 7AL |
| 23/02/2023 | 13.30 | Bulford | Bulford Children's Centre | SP4 9JY |
| 23/02/2023 | 9.30 | Melksham | Melksham Community Campus | SN12 6ES |
| 24/02/2023 | 13.30 | Bradford-on-Avon | Bradford-On-Avon Library | BA15 1BY |
| 28/02/2023 | 13.45 | Trowbridge | Studley Green Children's Centre | BA14 9JQ |
| 02/03/2023 | 13:30 | Tisbury | Nadder Centre | SP3 6HJ |
| 03/03/2023 | 13.30 | Chippenham | Spring Rise Children's Centre | SN14 0DH |
| 06/03/2023 | 13.30 | Westbury | Westbury Community Project | BA13 3NY |
| 06/03/2023 | 9.30 | Tidworth | Tidworth Leisure Centre | SP9 7QN |
| 07/03/2023 | 9.30 | Trowbridge | Trowbridge Sports Centre | BA14 0DN |
| 07/03/2023 | 13.30 | Mere | Mere Town Council Office | BA12 6EW |
| 08/03/2023 | 13.30 | Malmesbury | Malmesbury Library | SN16 9BG |
| 09/03/2023 | 9.30 | Warminster | Warminster Library | BA12 9BT |
| 10/03/2023 | 9.30 | Devizes | Devizes Children's Centre | SN10 5AA |
| 13/03/2023 | 9.30 | Pewsey | The Vale Community Campus | SN9 5EL |
| 14/03/2023 | 13.30 | Calne | Calne Library | SN11 0JU |
| 14/03/2023 | 9.30 | Royal Wootton Bassett | Royal Wootton Bassett Library | SN4 7AX |
| 17/03/2023 | 9.30 | Cricklade | Cricklade Town Council | SN6 6AE |