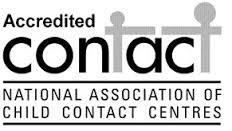 The Child Contact Centre is a safe, friendly and neutral place where children of separated families can spend time with one or both parents, and sometimes other family members. It is a child-centred environment that puts the needs of the children first.
We aim to create a warm, sociable atmosphere where you and your children can relax and enjoy yourselves. The centre has an area with a variety of games,toys and books for children of all ages. Tea, coffee and other refreshments are provided.
The Child Contact Centre is run by fully trained volunteers or staff. They are impartial, so they do not take sides. They work to a strict confidentiality policy and have all been police checked.
If you would like further information on the Child Contact Centre, please take a look at the National Association of Child Contact Centres website www.naccc-selfreferrals.org.uk
All visits are by referral only. These can be made through a solicitor, family mediator, CAFCAS (formerly known as a court family welfare officer), court order or self referral. A referral form can be found below and must be sent to:
Kirsti Turner
Contact Centre Co-Ordinator
The Rise Children's Centre
The Oaks
Chippenham SN15 1DU.
Tel: 07907 557398
Email: kirstit@therisetrust.org
Child Contact Centre Charging Policy
Purpose
As a Trust we rely on donations and fundraising to continue to provide our services. We also wish to ensure that parents value our service by enabling them to contribute towards costs.
Fees
The fees that are charged are intended to be paid by the non-resident parent and the level of the fee is the same as for other Contact Centres nationally. If parents wish to share the cost we need to agree this arrangement in advance of contact.
New time and location – please see in the link below
Contact Centre Dates 2019 – Station Hill Baptist Church