Following the Euros incident with Denmark footballer Christian Eriksen where he suffered a cardiac arrest mid game, it has highlighted the importance of having quick access to a defibrillator.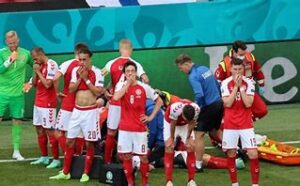 RISE have previously discussed purchasing defibrillators due to the services we provide and our staff being Paediatric First Aid trained, but financial implications prevented this so made ourselves aware of where local ones are located. We now want to raise funds to buy defibrillators for our Calne, RWB and Chippenham centres. 
FACTS 
A defibrillator, or AED (Automated External Defibrillator) gives a high energy electric shock to someone who is in cardiac arrest. During sudden cardiac arrest, the electrical impulses that cause the heart to beat regularly start to discharge chaotically, causing an irregular heartbeat. Victims of a sudden cardiac arrest will stop breathing and become unresponsive. A defibrillator applies a brief pulse of electrical current to the heart. This allows the heart's normal electrical system to resume control. 

 

Survival rates decrease

 at a rapid speed of 10% per minute, so after 10 

minutes that is 0%!

 

National ambulance response target time expects ambulances to reach a patient in eight minutes 75% of the time.  Across our four centres this response time ranges from 44-74%.

 
 CHALLENGE 
As walking and talking have been lifesavers to many during these difficult times, RISE staff will be walking between our centres on Saturday 9th October, 9am. 
Spring Rise – RISE (The Oaks) – Calne – Royal Wootton Bassett 
This is around 17miles! Some staff will walk part of the journey or aim to walk 17miles during October to help raise funds. We are also encouraging people to 'Walk and Talk' throughout October to enable community participation. 
Please donate through our JustGiving link www.justgiving.com/campaign/RISEdefibrillator . Our aim is to raise £4000. We will continue to fundraise until we reach our target.